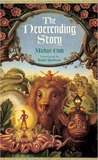 The Neverending Story by Michael Ende
My rating: 1 of 5 stars
I saw this audio book when I was in need of something to listen to, and remembered enjoying the fantasy movie from the 80's by the same title, so I checked it out. Strangely, I didn't remember hardly anything from that movie other than a flying dog, so as I began to read (listen) I was having a whole new experience.
The initial journey was a little long, but it was a fun adventure where a little boy takes part in the adventure he is supposedly reading. Finally, we are reaching towards the big moment where the Nothing is overcome and the Childlike Empress is saved. It wasn't my favorite, but it was satisfying to a degree. Then the story wrap up started, and was going a little longer than I expected since the main conflict had been resolved. Then there were new little conflicts, and the story kept on going, and I started to be concerned. Then it kept going, and concern turned to dismay. This story really was never ending! And it sucked! And where was that flying dog?
Finally after hours of unsatisfying torture it ended with the reunion scene between the boy and his father that should have taken place hours ago. Nothing good came from the rest of the book. It was a muddled plot with meaningless characters that came and went. Had it ended when the main conflict was resolved, I think it could have been a 3 star read for me. Now I grudgingly give it a rare 1 star.
I'm now going to go back and watch the movie, and see if Hollywood somehow fixed it, or if we were all so impressed with our new VCR's in the 80's that we would watch any old crap we could find on the shelf at Blockbuster.